DAUGHTERS
OF THE
DIASPORA:
WE BELONG
NEITHER HERE,
NOR THERE.
Taneshé is 21 years old from Southeast London studying for a Fashion BA at Cambridge School of Visual Performing Arts. She got her first interest for art in Year 7 when she did a taster into textiles and other creative courses. From a young age Taneshe knew that she wanted to do textiles, so she decided to take it for her GCSEs in Year 9, as well as for her A LEVELS. Due to her school having a speciality for science, this meant that she had to be proactive. After finishing A Levels, she went on to study at Degree level, which allowed her confidence and skills as a designer to keep developing.
"I wasn't going to study fashion at university, I was just going to do my own thing and get my foot through the door and work my way up. You can't underestimate the importance of education, whether it be a creative degree or stem degree – there is always knowledge and fundamental skills to learn."
Taneshé has used her experiences to push forward in making her dreams a reality by not allowing anything to stop her from reaching her full potential.
"Growing up in South London I can emphasise and also see that for some people, when you have grown up in a certain area and only been around people who have the same mindset as you, it's hard to see outside the box and see that you can do something different."
Taneshé has always known of and believed in her talent and potential which has driven her to work hard, but this also connects to the fact that she is a black woman.
"I am talented, but I can't be mediocre. I have to work harder than some of my peers. I always put in extra work and not make any excuses."
For Taneshé being black drives her work ethic as she strives to express herself and challenge bias. Taneshé's journey has shown her resilience and dedication to using her talents to inspire and help people by offering mentoring and support with their journey.
"For me personally I've always known that, where I am, who I'm around and where I am at the moment it's not my final destination and sometimes people put their own personal limiting beliefs on you. You have to know what you want for yourself and know that you are capable of doing whatever you want."
F I N A L C O L L E C T I O N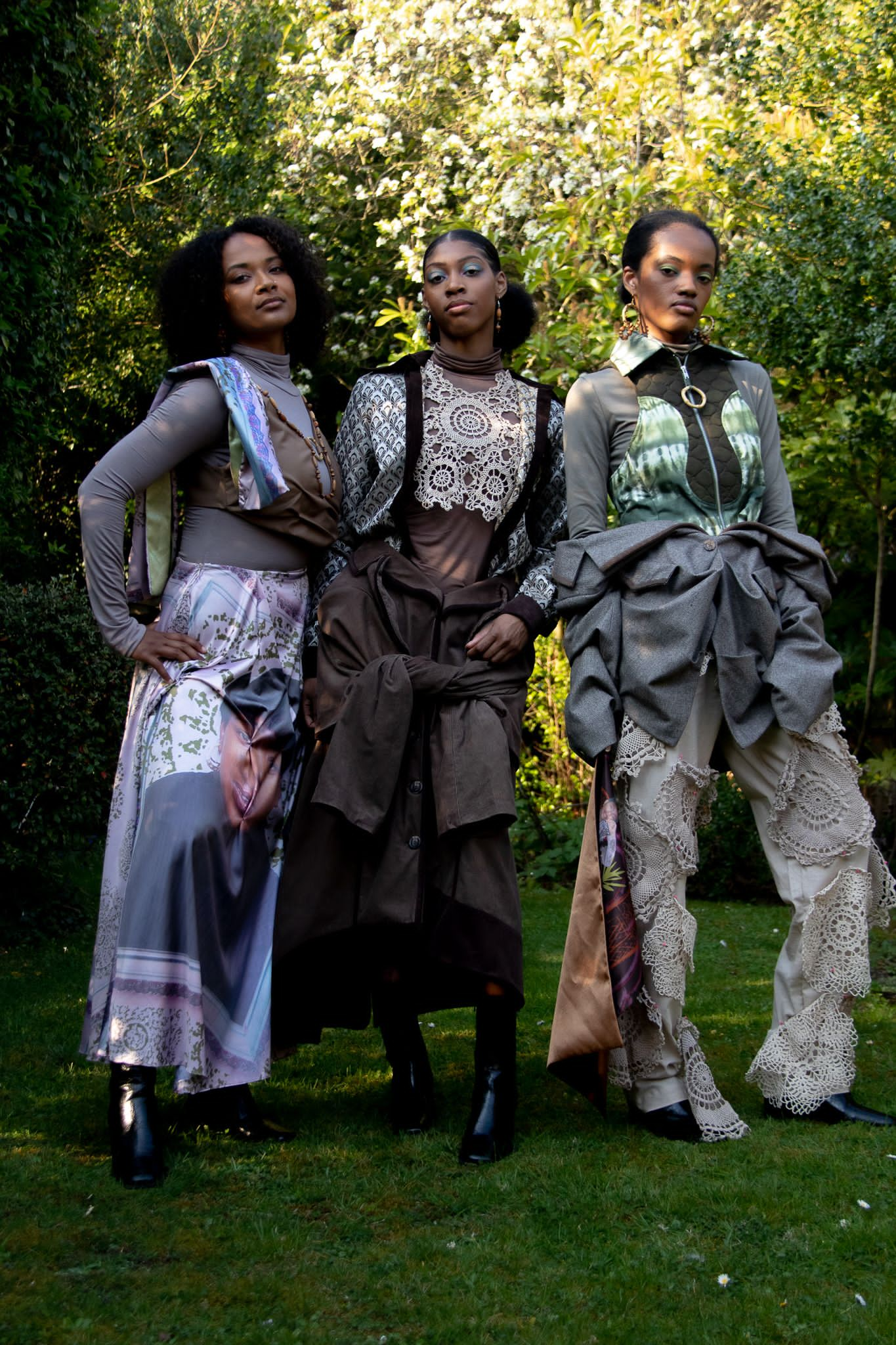 The collection was inspired by her dissertation titled 'Lovers Rock: How domestic space, music and fashion combined to create a sense of belonging for the British Jamaican diaspora.' This research project came from an initial response to 'Small Axe,' a series of films by Steve McQueen, shown on the BBC in 2020. Taneshe was really fascinated by the film 'Lover's Rock', about a house party held in a black British Caribbean home. Lover's Rock is a unique form of romantic reggae music from the late '70s. It was created by the children of the Windrush Generation whose parents arrived in the UK between 1948 and 1971 from Caribbean countries to fill in job vacancies in the post war country. Since 2018, the Windrush Generation has become part of a political scandal that led to a government apology, which recognised that they had become victims of an unjust immigration campaign with harsh deportation rules. The collection was about taking the viewers on a journey that captured an essence of what it was like to be Black British. Taneshe spoke about visiting her great grandma's house and how these experiences played a part in creating her collection.
"Growing up and visiting her at her house: the sofa, the doilies, all the aspects of its material culture really resonated with me. I was interested in how even when you go to the family friends' houses you see the same objects – and most of our houses are very similar."
When you see the collection itself, you see how Taneshé has taken these features from her grandma's home and turned them into elements of her beautiful garments. It was not just observation that helped her come up with her approach to fashion design, she also attended talks on finding Black joy and how black resistance can come through our homes and just existing.
"I am interested in Black British identity and how we exist in spaces that are often very hostile."
Taneshé only designs from her unique experiences, and this has been placed into this collection. The collection itself features images of some of Taneshé's family, which makes it personal – but not just for Taneshé; for everyone because family is important. Family plays a huge part in feeling like you belong somewhere, the connections within Taneshe's collection allows you to see the depth Black culture.
B L A C K C R E A T I V E S
Feeling like you belong somewhere is important especially when you are in an unfamiliar place like higher education. Feeling that you aren't supposed to be there, and you aren't as good as your peers. Imposter syndrome is something that Taneshé has dealt with and this comes from being in unfamiliar spaces she hasn't experienced. When it comes to black creatives, we are seeing more places opening up, but more can be done to make it better. When it comes to ethnic minorities, we need more spaces to grow, and we need to stop being overlooked.
"Supporting the next generation talent, by networking, sharing knowledge or opportunities and giving them your time is important. When I received a message on LinkedIn, I was happy to become a mentor to someone – to share the knowledge that I had."
The only way that ethnic minorities will start to get the recognition they deserve will be by working together and supporting one another. I had the opportunity to be on set with Taneshé while she was shooting her final collection, and it was amazing to see the garments on the different models. It was important to get an understanding of Taneshé's casting and how this played into her collection.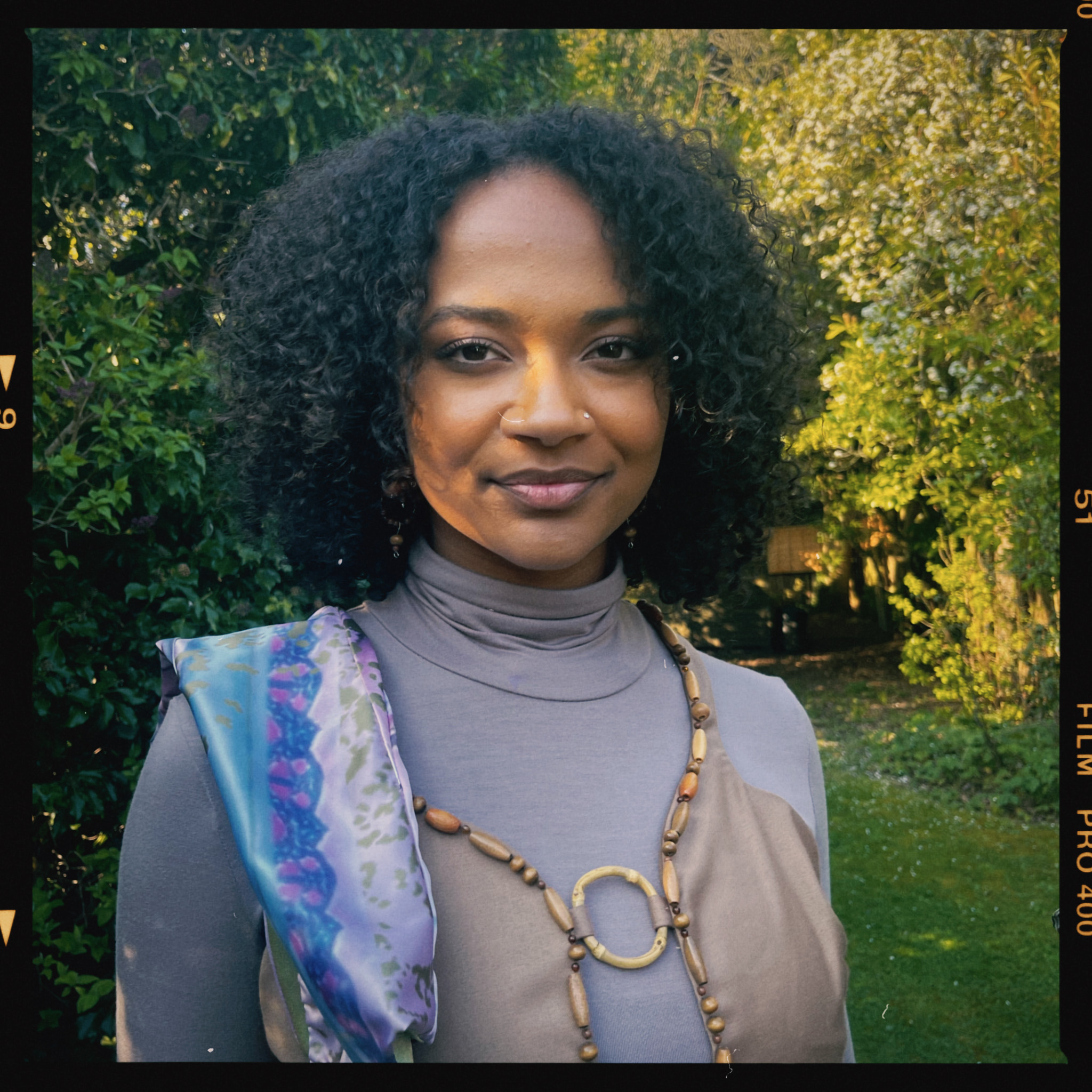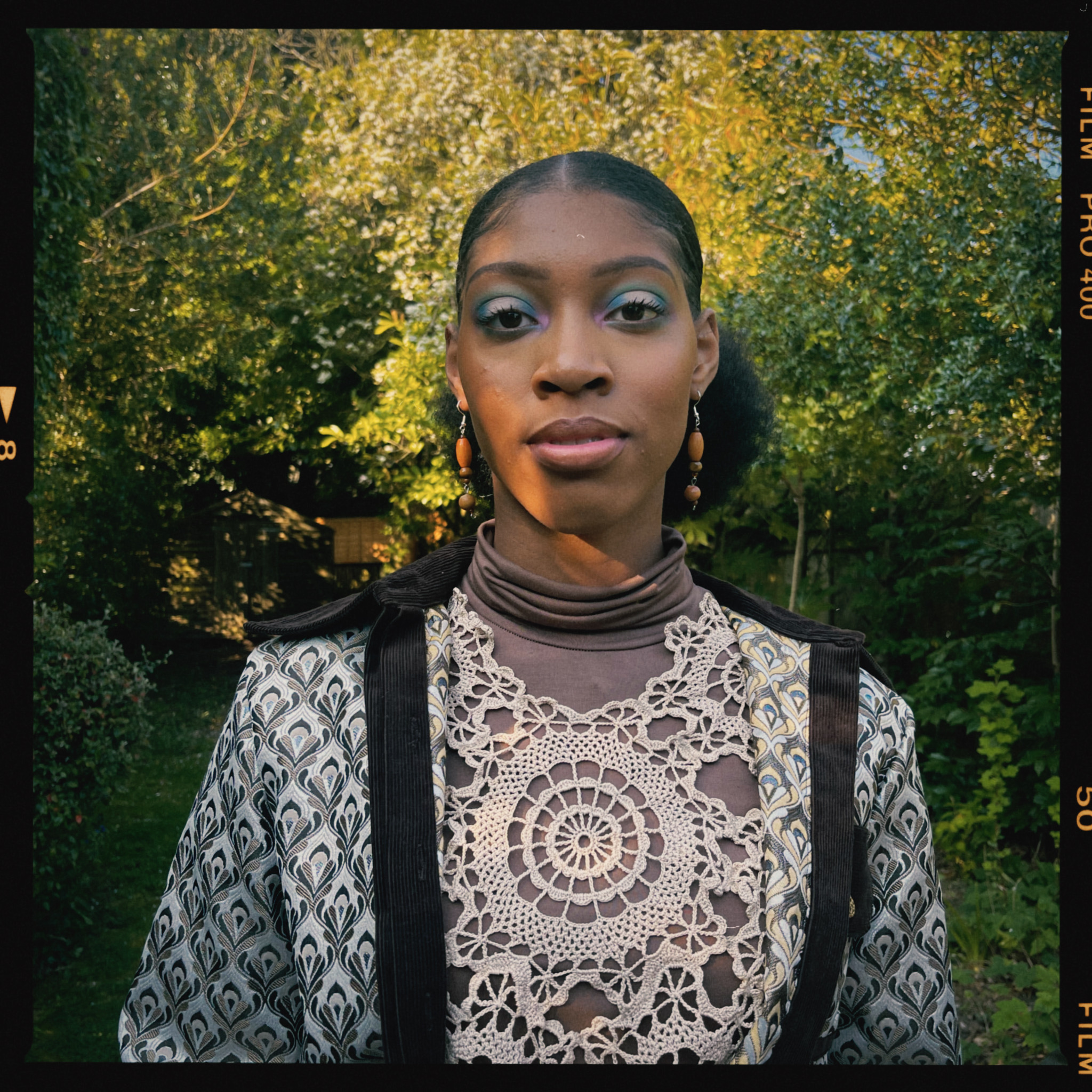 Danielle Wright, Havanna Oliver, Vanés Creavalle
"The casting was important because I wanted this to reflect the Black British experience. The only way to do that is to use black models. I chose the casting by looking on social media and looking for students who studied at Cambridge. I reached out to them and took it from there – and the reason why the models wanted to be involved was because they found the topic interesting, and it is something they could also understand too."
S H O O T D A Y
I had the opportunity to follow Taneshe on the day of her shooting her final collection. A huge shout out to Maria and James for the location and Bethany who tooks the photos. The models Havana, Danielle and Vanes who did an amazing job and played a huge part in bringing Taneshe's collection together. A big thank you Taneshe for allowing me be part of the photoshoot. Taneshe has done an amazing job taking features and material from her grandma's house and turning them into garments. The way that garments were layered on top of each other – it was refreshing; each garment complemented one another; and it was amazing to see all 3 models styled differently. As a black British Caribbean man, I identify with this collection because I remember growing up and seeing these patterns on curtains and doilies on the table and around the house at my grandmas. I had the experience to see Taneshe go from planning her collection, to physically seeing her up at 8AM and going straight to university. I am so proud of how far you've come Taneshe, and the collection speaks for itself. What made me happy through this process was seeing everything unravel and come together. YOU DID IT! Congratulations.